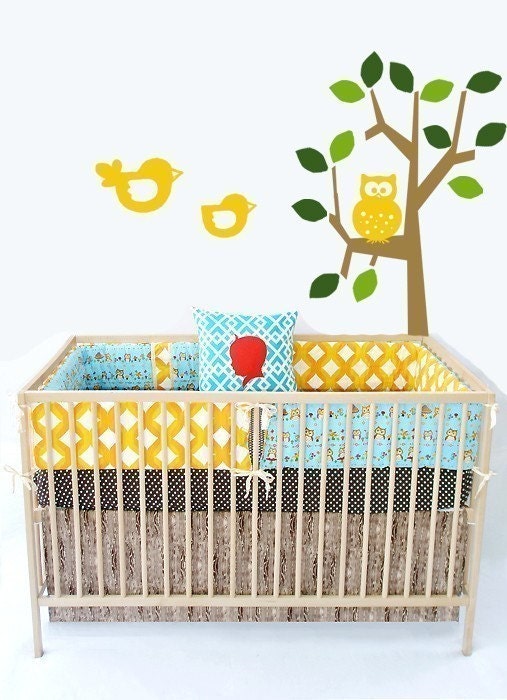 This was Inspiration #1 for me. Wall art decal available HERE at Expressingyou on Etsy.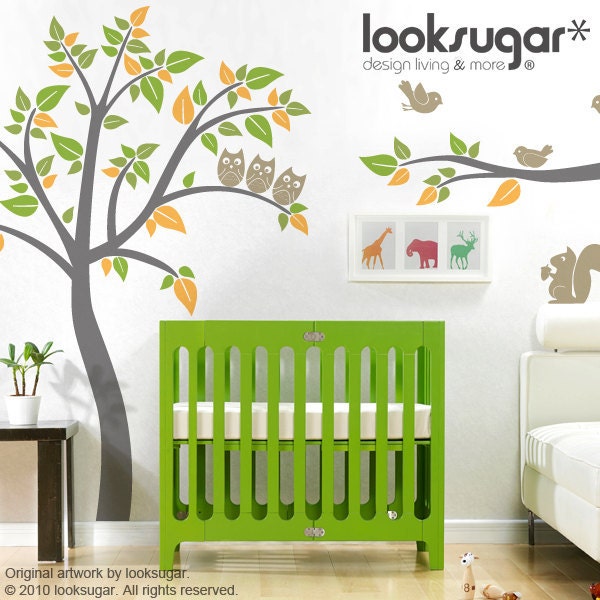 Inspiration #2. Looksugar design wall art on Etsy.
And this one found in a book I borrowed from the library. Sorry, don't remember which one at this time….but I fell in love with how the real brach was incorporated in this mural, with the hanging frames from it.
This is what Nathan's bed corner looked like this summer. Pretty boring, even with a cool ikea crib.
I do paint and draw….well, sometimes. I took my inspiration photos to his room, and started sketching a modern tree on his wall. (Later on I realized it could have gone a lot faster had I framed out the tree with painters tape and just filled it in). Instead, I guess I chose to struggle and let it take me 2 months : ).

And part of the time my little man required some holding, so I held him with one arm, and kept drawing with the other.

And 2 months later, (yesterday), this is how it turned out. Many adjustments later, I am finally pleased with how my painted wall mural turned out. I painted it with basic acrylic paints.

PROS: It was created for N by Mommy, it cost me only $3.00 (for more paint), & makes the crib area look fantastic now.

CONS: took me forever to finish it & I may have to paint over it if we ever move (we rent).

But, I'm happy with it, so that's enough for me.
Love these photos! Our family friend, Justin Spivey, took these photos of our family this year in April. He did an absolutely awesome job! You can check out his website HERE.
The frames are wood/plastic (so baby grabbing safe), and from Ikea for only $1.99 each. I placed black photo corners on each photo and mounted them on white cardstock. There is no matting involved.
I drilled 3 small holes in the wall with a drill bit, and screwed in small, copper hooks. Then, I tied a ribbon on the hanging mount behind each photo frame and hung them up.
And baby loved them right away too! And then Mommy scooted his crib a bit away from the wall : ).
And here's Nathan's corner now. Much better. What do you think?